Posted by Canada Hot Tub Parts on Mar 08, 2022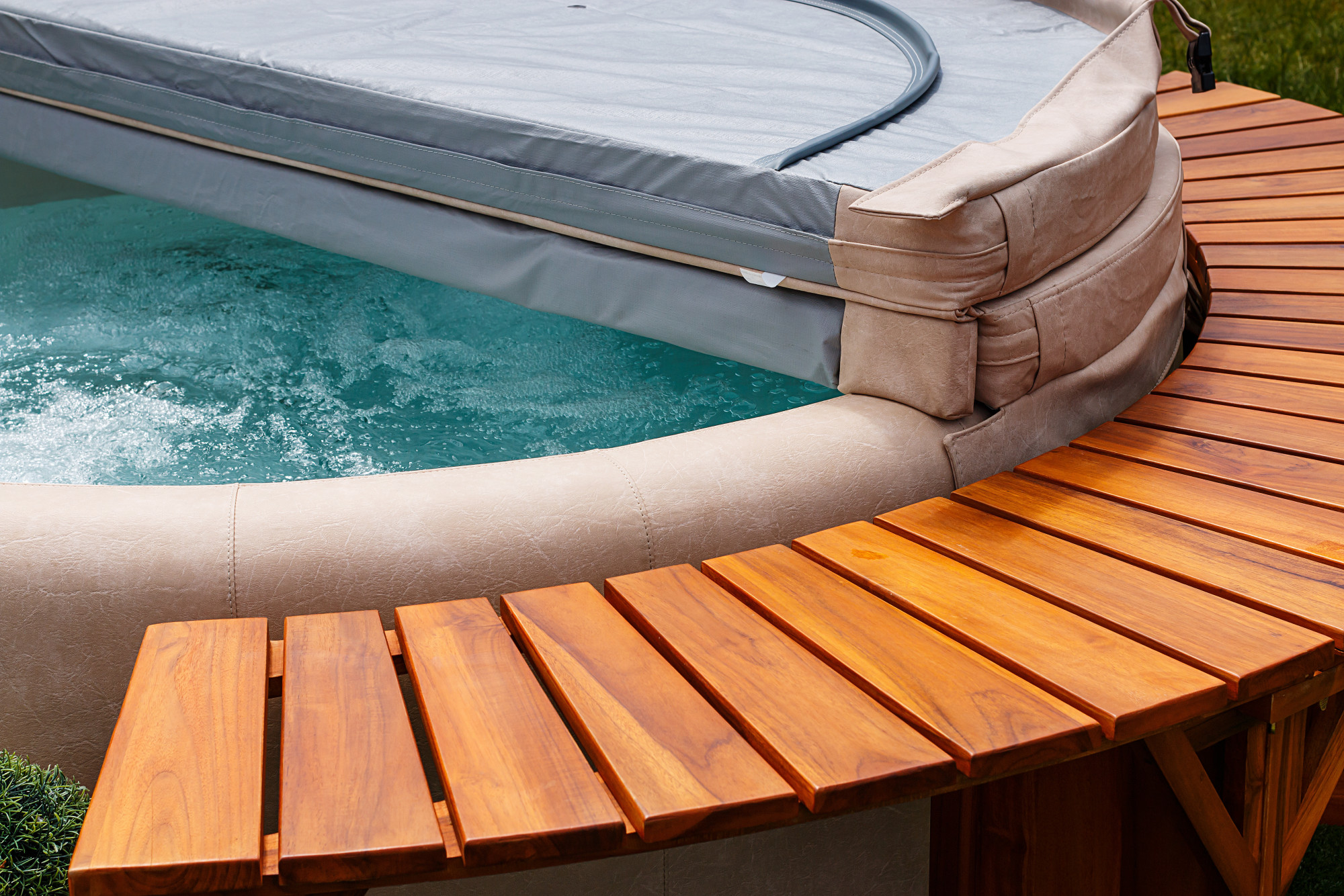 Hot Tubs: How Long Will My New Spa Cover Last
There's no doubt about it; owning a hot tub is a well-deserved luxury we can all do with. In fact, from 2020 to 2027, a compound annual growth rate of 6.22% is expected to be achieved by the global Hot Tub market.
But you won't remain relaxed for long if you don't keep it well maintained. You need to consider several things when maintaining your hot tub, but knowing when to get a replacement hot tub cover is essential.
We'll chat about everything you need to know about your hot tub cover and how to care for it in this article.
Types Of Covers
A few hot tub covers are on the market today: soft, hard, aluminum, and Smartop.
Soft Spa Covers
Soft spa covers are made of robust fabric (vinyl, canvas, polyester) and are one of the more cost-effective types of covers you can get. The material is stretched across the top of the spa and then tied with clips to the connectors on the tub.
While these covers are not thermal, they won't retain any heat; they are cost-effective, slim, and lightweight.
Top Tip: In the rainy season, leave an air-filled pillow under the cover to prevent rainwater from gathering in the middle.
Hard Hot Tub Cover
These covers are, like their name suggests, hard. They're made of foam cores and vinyl, with a hinge running through the center. It can be secured to prevent children or pets from accessing the water and has built-in thermal properties.
This means that it retains heat, allowing you to save money by turning down your heat pump settings. In addition, it's the most common style of cover and considerably well-priced against the other spa covers.
Aluminum Hot Tub Cover
Arguably more expensive than your traditional cover, there are a few benefits that make the hot tub cover cost worth it. They're made of top-quality materials: foam core sandwiched between two layers of aluminum, with anodized aluminum around the outer edges. The top is colored and sealed.
This cover will protect children and pets from the water and keep unwanted debris and pests out. Finally, this cover holds up under heavy rain and snowfall.
Smartop Hot Tub Cover
Smartop covers are hydraulic, taking the effort out of removing your cover by hand. With a hinge in the middle, you lift one side to rest on the other and then lift both sides out of the water.
The hydraulic poles secure them safely in an upright position next to the tub, ready to be lowered with equal ease.
Hot Tub Cover Maintenance
There is a bit of basic hot tub cover maintenance you can do to increase your hot tub cover lifespan. Let's go over essentials now.
Clean Your Cover: Rinse off the cover with cold water, and using a gentle, ph-neutral cleaner (must be non-foam), wipe clean, and rinse again.
Top Tip: Never use abrasives, alcohols, dish soaps, laundry detergents, or harsh cleaners.
Keep It Dry: Covers can get waterlogged over the rainy season, which can add to the overall weight of handling your cover, so remove the cover, unzip any zippers and leave it to dry.
Protect It: Besides applying a high-quality protective cleaner, you can also cover the whole spa and cover with a tarp, increasing the hot tub cover lifespan.
Repair It: You don't always want to buy a new hot tub cover, so inspect your old cover regularly and repair any damages you find immediately.
If you follow those simple basics, you can get a lot of years out of your cover. Just take care of it, and it will take care of you.
Signs It's Time To Replace Your Old Hot Tub Cover
Knowing when to purchase a replacement hot tub cover is an essential part of owning a hot tub or spa. But how long do they last anyway? On average, a properly maintained cover should last anywhere between five to seven years.
Here are three signs to look for to know when to start looking for a replacement spa cover.
1. Torn Or Damaged Outer Vinyl
Unfortunately, if your cover is torn or cracked (or even discolored), there are no remedies for those issues. It's simply time to replace your cover unless you want an eye-sore every time you use the hot tub.
A damaged cover can also be a hazard to children and pets, so it's advisable to replace it as soon as possible.
2. Center Is Sagging
If your cover has started to warp or sag in the middle, it's an obvious sign that the cover's integrity has been damaged or worn down, and it needs to be replaced. Using it in this state can further damage the cover and potentially even damage the hot tub itself.
If you continue to use it damaged in this way, it can cause your cover to lose its seal by putting pressure on it. Loose seal means lost heat retention. So you do the math—time to replace.
3. It Smells Bad
If your cover smells very unpleasant, and you've aired it out and let it dry completely, it could mean that it has a bad case of bacteria or mildew. Spending time around this kind of mold or bacteria can make you ill, so it's best to start thinking of a replacement hot tub cover.
Mold happens when the foam core eventually gets saturated over time, and it can't dry out completely. You might even be able to notice it on the underside of the cover—time to replace it.
A Shiny, New Hot Tub Cover
Buying a new hot tub cover can be expensive, so doing a little routine hot tub maintenance can give you more life out of your cover. This means you save a little each year that you don't have to replace it, and who doesn't like a saving?
However, if you've noticed any of those signs that it's time to replace your hot tub cover, then contact us today, and we will assist with a quality cover that you can rely on.