Posted by Canada Hot Tub Parts® on Feb 14, 2019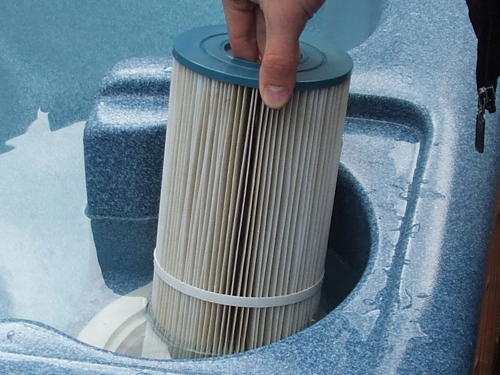 One reason for bad hot tub water quality is usually caused by poor hot tub water filtration. A hot tub filter that is operating properly helps keep the water clear by capturing hair, oils and cosmetics that wash off when people use the spa. When a spa filter is clogged and dirty all of this debris remains in the hot tub water. The solution is to either clean or replace your hot tub filter. Typically you should clean your filter every 4-6 weeks and change it out every 6-8 months.
Cleaning the hot tub filter is a easy process. ( 5 steps )
1. Remove the cartridge from the cannister. Make sure that hot tub is powered off
2. Rinse with a garden hose to remove loose debris. You can use a tool that helps called a Filter Flosser or Aqua-Comb to do this.
3. Soak the filter in a filter cleaning and degreasing solution as per the manufacturer's instructions. This helps eliminate all the accumulated oils. There are various products on the market that clean and degrease the filters. Eco One Filter Cleanser or Spa Marvel Filter Cleaner
4. Rinse the cartridge filters again ( ideally the cartridge should be allowed to dry )
5. Return filter to hot tub filter housing
6. Enjoy your Hot Tub !